Rhinoplasty alar reduction method
Be Beautiful with
Rhinoplasty alar reduction method
See the nose ▼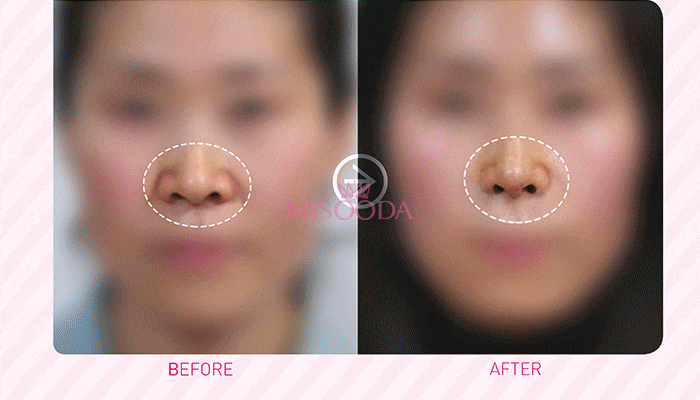 Surgery Information
• Duration: 20 min.
• Anesthesia: Local (Deep Sleep) Anesthesia
• Hospitalization: N/A
• Stitch Removal: 1 week after
• Clinic Visit: 2~3 times
• Recovery period: Return to daily routine 3~4 days after
What is alar reduction?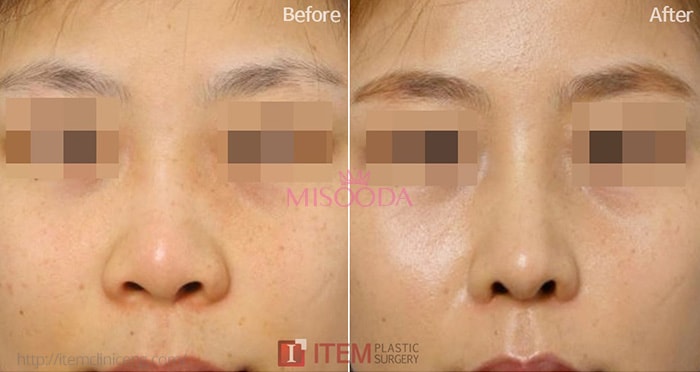 This procedure is having a nasal alar that is wide, round and thick with big nostrils. There are two methods to reduce alar; incision and non-incision.


Incision method: It is a method to reduce the alar size by cutting the lower part of the nostrils inner sides. Most of cases are appropriate with this method. Alar is also be cut directly on the outer side of the alar along the alar wings then narrowed to the desired width. Scarring can occur but give a permanent effect.
Non-incision method: It is a method narrowing the alar by tying the alar with alar cinching (gathering alar cartilage by stitching method). If alar is not severely spread out and only bottom part of the nostrils is wide, then this method is appropriate. Incision is made on the inner part of the alar and holds the alar cartilage by the stitching method. This method causes less chance of infection but limited effects to severely wide alars.
Who are the candidates for Alar Reduction?
- Those who have a flat appearing nose due to wide nostrils
- Those who have an arrowhead nose
- Those whose alar is fat and wide
- Those whose nose tip appears flared or wide
Korean Nose Surgery/ Rhinoplasty Cost
General price guide line for Korean Nose Surgery/ Rhinoplasty is USD$900 to USD$7,500 according to Korea Health Industry Development Institute. The price is decided depending on the method and difficulty of patients' case. The procedures below can be added on the top of general nose augmentation and the price will be in variable range.
Part

From

(USD)

To

(USD)

Rhinoplasty (Silicone + cartilage)

3,200

3,800

Nostril Reduction

900

1,800

Aquiline Nose Rhinoplasty

3,600

5,500

Crooked Nose Correction

5,500

7,300

Nasal Bone Reduction (Osteotomy)

4,500

7,500
To learn more about Korean Plastic/Cosmetic surgery price in Korea, check Know your plastic surgery price.
To check various types of rhinoplasty procedures,
Nose Surgery Precautions
Preoperative Precautions
Check: What to prepare before Plastic Surgery
Post-operative Precautions