Anti-aging surgery in Korea
Be Beautiful with
Anti-aging surgery in Korea
See the skin ▼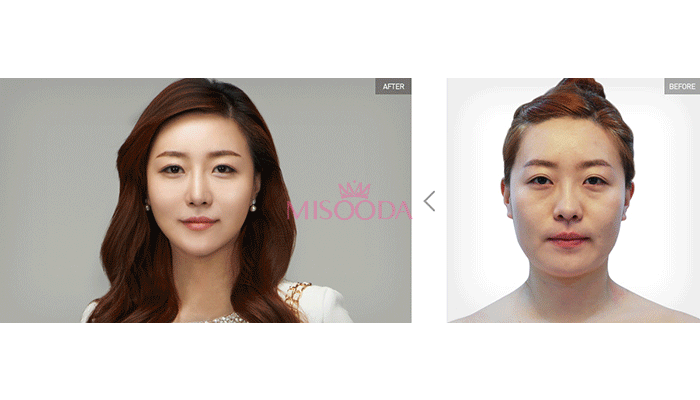 What is Anti-aging
Anti-aging is to delay, prevent or limit the process of getting old with either a product or technique. Recently, as the standard of beauty has moved towards having a baby face, anti-aging became a huge interest to many people.
Major Aging Symptoms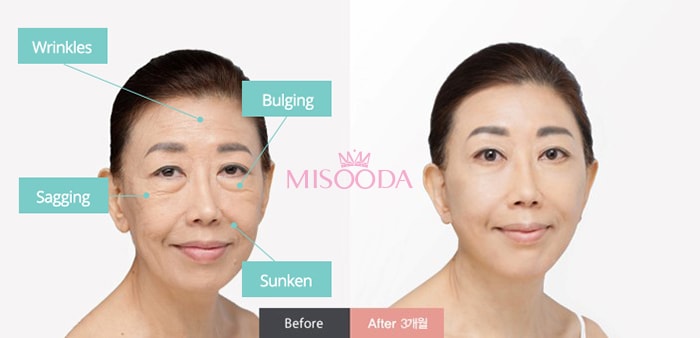 As an infant, child and young adult, our body cells are strong, resilient and able to quickly generate new cells. However, as aging occurs constantly, cell death also begins. When aging starts, 4 major symptoms are wrinkles, sagging, sunken skin and bulging happen to our faces and body. People, especially women desperately want to solve their appearance of looking older.
Types of Anti-aging Treatment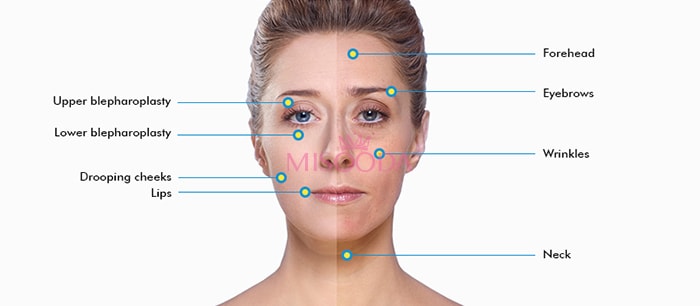 Luckily, there are various anti-aging procedures due to very advanced medical techniques for women going through the aging process and willing to be go back to their youthful look. The marked parts of the photo above are representative areas of the face that cause aging wrinkles, sagging, and flatness as aging begins. In order to look like a baby with a small and three-dimensional face, these parts need to be tightened and volumized. There are many ways to prevent aging: erase the wrinkles, pull up sagging, fill the sunken areas etc. categorized as anti-aging procedures.
Who are the candidates for anti-aging surgery?

- Those who have wrinkles on the overall face
- Those who have severe sagging skin, look old and depressed
- Those who want to look younger and more beautiful aesthetically
- Those who want to improve their vision by improving forehead and upper eyelid sagging
- Those whose appearance is older than their age
- Those who look older due to lack of volume on their faces
Anti-aging surgery price in Korea
General price guide line for Anti-aging Surgery in Korea is USD$1,400 to USD$18,200 according to Korea Health Industry Development Institute. The price is decided in a variable range depending on the method and difficulty of the patients' case.
Part

From

(USD)

To

(USD)

Ulthera

1,400

2,800

Threads

2,300

3,600

Accu-lifting

1,400

2,300

SMAS Face Lift

5,500

9,100

Full face lifting

9,100

18,200


To learn more about Korean Plastic/Cosmetic surgery price in Korea, check Know your plastic surgery price.
Anti-aging surgery precautions
Preoperative Precautions
Check: What to prepare before Plastic Surgery
Swelling and bruises will occur for 3 days after the surgery but they will gradually be subsided afterwards.

Applying an ice-pack for 2-3 days will be helpful. However, in case of fat graft, applying ice-pack should be avoided. If ice compresses a fat grafted area, the area would possibly be sunken and the rate of fat engraftment would greatly decrease. However, it would be good if a fat grafted area is kept cool by rolling ice near the surgical area.

Do not compress or massage on the surgical area. Especially in case of fat graft, this could decrease the engraftment rate or the fat might move to other position.

Facial wash and make-up can be done on the next day of the surgery.

Please do not voluntarily remove bandages or tapes from a surgical area until a nurse does it.

Please avoid heavy exercises such as aerobics or gym workout for 4weeks. However, going for a walk is recommended.

Shower can be done from the next day of the stitches removal, but please avoid sauna and hot spring for 4 weeks.

Do not bend your head or lie face down.

Supporting your head with large pillows can be helpful in reducing swelling or pain. Make sure your neck should not be bent on the pillows. Do not turn your neck sideways or lie face down, but try to sleep in straight position.