'The Place Where the Secret of Beauty Begins'
The secret of successful fat graft is all about the technique of pure fat extraction.
It is very important since the main reason for the complications is from the removal of impurities.
To avoid any complications, TS uses our own special technique to extract pure fat.
It is also important to inject extracted fat into multiple layers evenly.
Our fat graft specialist, Dr. Lee, who is into small details, is in charge of the operation with extensive experience and provides the utmost customer satisfaction with the successful result.
You can also have a 3-dimensional face from every different angle!
Come to TS to experience the quality!!


Surgery Information
| | |
| --- | --- |
| 手术时间 | - |
| 麻醉方法 | - |
| 住院治疗 | - |
| 术后拆线 | - |
| 术后访问 | - |
| 恢复过程 | - |
Provided Service
| | |
| --- | --- |
| 药物 | - |
| 术后治疗 | - |
| 交通 | - |
| 外语翻译 | - |
| 住院治疗 | - |
| 其他服务 | - |
| | - |
手术前后的注意事项
手术前的注意事项
Medication
• Please stop taking any medications below a week before the operation.
- Multivitamin, Tocopherol, Aspirin, Birth control pill, Dermatological drugs, Blood circulation enhancer, Roaccutane (acne drug), Herbal medicine
• Please do inform us if you ever had any side effects from medications or injections.
• Please let us know if you have a symptom of flu, inflammation, cough, or phlegm a week before the operation.
Smoking/Drinking
• From a week before the operation, smoking and drinking are prohibited.
Fasting
• General anesthesia: Any kind of foods and drinks including bubble gum and water are strictly prohibited from 12 AM of the operation day
• Sedation: Any kind of foods and drinks including bubble gum and water are strictly prohibited 6hours prior to the operation
Others
• Makeup, any accessories, or nail polish has to be removed before the surgery.
※ Please be advised that the time of the operation can be adjusted, we will contact you a day before the operation to confirm.
※ We recommend you use public transportations or go with your guidance rather than driving your own.
手术后的注意事项
Medication and Ointment.
· Clinics will prescribe medicines mostly consisting of antibiotics, digestive medicine, and antiphlogistics. Additional costs for medication may be required.
· In case of having any allergies or side effects after taking medications, please stop taking and contact us immediately.
Right After the Operation
· It may be usual to have leakage of the surgical liquid bloody surgical liquid coming out after the surgery. Please wipe gently with a gauze or a clean tissue.
· Applied hydrocolloid dressing which is called 'Duoderm' on the injected area should be maintained for 2 days. You can remove it after(You do not have to replace it to a new one in case it falls off).
· Either a hot or a cold pack massage is not recommended since it may cause a low engraftment rate. Please avoid wearing a hat or glasses for 4 weeks while injected fat settles.
· Please do contact us immediately if you have pain accompanied by heat or getting worse.
Swelling, pain, or senses (Individual symptoms may vary)
· There may be a difference of swelling each side of the face and the bottom part temporarily may seem a bit puffier due to swelling subsides from the higher to the lower area. It might seem to have a bumpy facial surface or asymmetric.
· There may be a lot of swelling till the 3rd~4th day. Most of the swelling will get better within a week depends on the individual.
· The surface of the area might seem bumpy while blood vessels start to grow in grafted fat and swelling goes down.
· It is normal to have pain comes and goes at intervals.
· You may have a pricking or pulling pain around the fat extracted or injected area. This is totally normal and will get better over time.
· Fat extracted area(abdomen, thigh, or etc.) might become a bit hard which will get back to normal after 1~3 months.
· Bruising resolves within around 2~3 weeks or more.
Stitch out and Wound care
· The scar will look a bit red from the 6th week to the 6th month which will get better after(depends on the individual).
Applying ointment over the incision after the stitches are removed is helpful for quick recovery.
· Depends on the operation method, you might need disinfection or antibiotic injection when you visit the clinic the day after the operation.
· Suture Removal will be on the 10th day(consider the day after the surgery as the 1st day).
Enhanced recovery post-operation
· Please avoid having a strict diet, drinking, smoking, or getting too much stress since those impact on the engraftment rate. In addition, using too much of facial muscles for expression should be avoided as well for a month after the surgery.
· Rubbing or pressing the fat injected area may change the shape which should be avoided. It is possible for you to have a meridian massage or press pimples out that anything gives a strong impact on the surgical area after 2~3 months.
· You might have skin trouble such as pimple depends on your skin condition.
· Partial transferred fat may be absorbed and it will take about 2 months(depends on the individual) for engraftment. Thus, revision surgery is recommended after 2~3 months.
· We recommend you to avoid spicy or strong tasting foods as well as tough or hard texture foods for 2 weeks after the operation since those affect the facial muscles and fat.
· It is helpful to reduce swelling to use 2~3 soft pillows together when you sleep after the operation.
· You can wash your face after the 2nd day and shower after the 5th day avoiding water going directly to the fat extracted area.
· You can put on makeup after the 7th day of the operation.
· Light walking is recommended to encourage healing.
· High-impact activities(such as swimming, gym, climbing), strenuous exercise, sauna, Korean dry sauna must be avoided for a week as those slow down healing process.
促销活动过程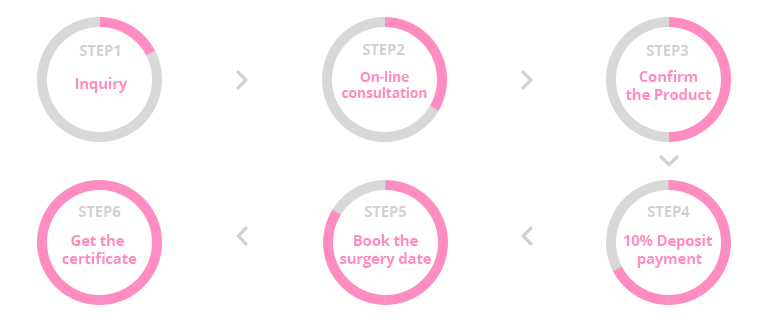 取消政策
手术押金付款不可取消,也不予退还。
请在认真考虑后再做决定。