'The Place Where the Secret of Beauty Begins'
For all guys who want to have manly-looking rhinoplasty!
If you want to have the best result at once! If you are looking for the clinic where has amazing after-care!!?
TS is here for you <3
Do you think Rhinoplasty goes the same for ladies and guys?
No! It should be different from ladies to highlight masculine-look!
For the successful result without repetitive surgery in the future, it is very important to have successful primary surgery.
The same rhinoplasty in so many plastic surgeries but you will experience a totally different outcome!
Come to TS where has unique know-how with an amazing result!

Surgery Information
| | |
| --- | --- |
| 手术时间 | - |
| 麻醉方法 | - |
| 住院治疗 | - |
| 术后拆线 | - |
| 术后访问 | - |
| 恢复过程 | - |
Provided Service
| | |
| --- | --- |
| 药物 | - |
| 术后治疗 | - |
| 交通 | - |
| 外语翻译 | - |
| 住院治疗 | - |
| 其他服务 | - |
| | - |
手术前后的注意事项
手术前的注意事项
Medication
• Please stop taking any medications below a week before the operation.
- Multivitamin, Tocopherol, Aspirin, Birth control pill, Dermatological drugs, Blood circulation enhancer, Roaccutane (acne drug), Herbal medicine
• Please do inform us if you ever had any side effects from medications or injections.
• Please let us know if you have a symptom of flu, inflammation, cough, or phlegm a week before the operation.
Smoking/Drinking
• From a week before the operation, smoking and drinking are prohibited.
Fasting
• General anesthesia: Any kind of foods and drinks including bubble gum and water are strictly prohibited from 12 AM of the operation day
• Sedation: Any kind of foods and drinks including bubble gum and water are strictly prohibited 6hours prior to the operation
Others
• Makeup, any accessories, or nail polish has to be removed before the surgery.
※ Please be advised that the time of the operation can be adjusted, we will contact you a day before the operation to confirm.
※ We recommend you use public transportations or go with your guidance rather than driving your own.
手术后的注意事项
Medication and Ointment.
· Clinics will prescribe medicines mostly consisting of antibiotics, digestive medicine, and antiphlogistics. Additional costs for medication may be required.
· In case of having any allergies or side effects after taking medications, please stop taking and contact us immediately.
Right After the Operation
· A nasal packing post-operation will be removed the day after when you visit the clinic for treatment.
· It may be usual to have bleeding for 3 days after the surgery. The gauze underneath the nose can be changed by yourself time to time.
· Do not use a cotton swab, a tissue, or a hand to pick your nose or picking the scab inside the nose to prevent infection for the first 3 months.
· You may face nasal congestion due to the swelling and healing process.
· The tape and nasal splint support the implant not only from moving but also settling the designed nose and controlling bleeding. It will be removed with stitches at the same time when you visit the clinic. Please do not take it out.
· Please do contact us immediately if you have pain accompanied by heat or getting worse.
Swelling, pain, or senses (Individual symptoms may vary)
· Swelling or puffiness may vary depends on each area such as the left or the right side of the nose, nasal bridge, and nasal tip. It might seem a bit curved or feel awkward during the wound healing process.
· In case of using an implant, as it is located under the layer of periosteum covering nasal bone, you might have a bruise, swelling around the eyes, or blood trapped underneath the conjunctiva.
· Bruises may fade away in about 2 weeks.
· It will take 1~2 weeks for severe swelling to be reduced around the nasal bridge. It will take longer for swelling around glabella and nasal tip since the skin on those areas are thicker. It may take around 6 months to be natural.
· We recommend you to use an ice pack for the first 3days and warm packs(not too hot) after all for 2weeks for quick recovery. Make sure to do around eyes and cheeks without pressing your nose.
Enhanced recovery post-operation
· It is possible to wash your face and put on makeup the day after the stitches are removed. Please avoid water going inside of the nose.
· You may shower on the 3rd day of the operation avoiding water goes directly to the incision. It is possible to put your head down to wash your hair after a week.
· Light walking is recommended to encourage healing. However high-impact activities (such as swimming, gym, climbing), strenuous exercise, sauna, Korean dry sauna must be avoided for a week since it delays recovery.
· Please avoid wearing sunglasses or glasses for a month.
· It is helpful to reduce swelling if you use 2 pillows when you sleep to put your face a bit elevated. Avoid sleeping on the side or stomach for the first 2 weeks.
· Smoking and drinking are strictly prohibited for a month after the surgery since they may cause infection and delay wound healing.
· Using spray type of any naphazoline hydrochloride is strictly prohibited for a month.
促销活动过程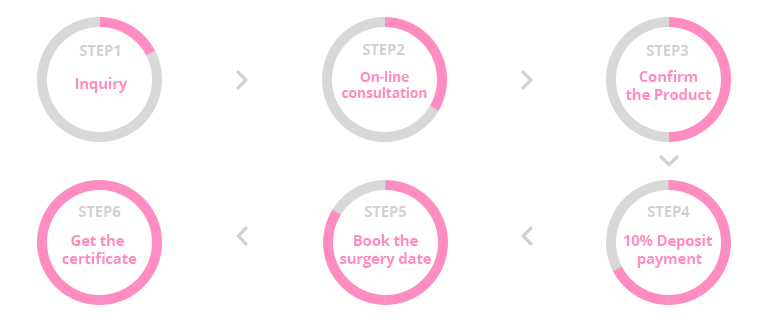 取消政策
手术押金付款不可取消,也不予退还。
请在认真考虑后再做决定。