Semi-Invasive Face Lift: Thread Lift (MINT, OMEGA, Blue Rose TL)
Be Beautiful with
Semi-Invasive Face Lift: Thread Lift (MINT, OMEGA, Blue Rose TL)
See the Face Lift▼
For some people who are not ready for a Face Lift surgery, Thread Lifting is a very good alternative for those looking to improve one's sagging skin. It is semi-invasive, has a relatively low downtime and produces results instantly after the procedure. Read on to find out more about the various options when it comes to Thread Lifting and why it is a good option for many.
Thread Lift, as its name suggests, is a non-surgical, minimally invasive cosmetics procedure that uses medical sutures (or commonly known as "threads") to slightly pull up the skin, creating the lifting effect in the face and neck. Not only that, these threads also stimulate the skin in producing new collagen at the areas where they are inserted, thereby tightening and rejuvenating the skin at the same time. The threads are also commonly referred to as Polydioxanone (PDO) threads. PDO is the material of the most commonly used threads; they are of similar material to surgical sutures, used for stitches in medical surgeries. Hence there is a long history of PDO usage for the body, it is well-established, tested and safe for use.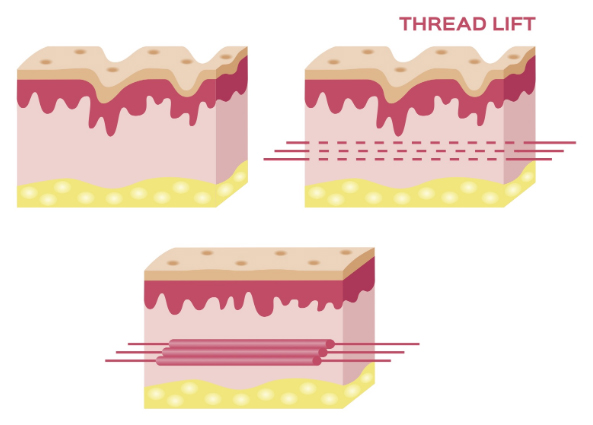 Image from: https://www.priveclinic.com/clinic-services/facial-contouring-facelift/facial-thread-lifts/?gclid=CjwKCAiA3abwBRBqEiwAKwICAxjc3V5DiYPQNXYLX1UHPEURQpKtVncd41kxTPGaNyDwr5s-pTTNkRoCyeMQAvD_BwE
How does Thread Lifting work?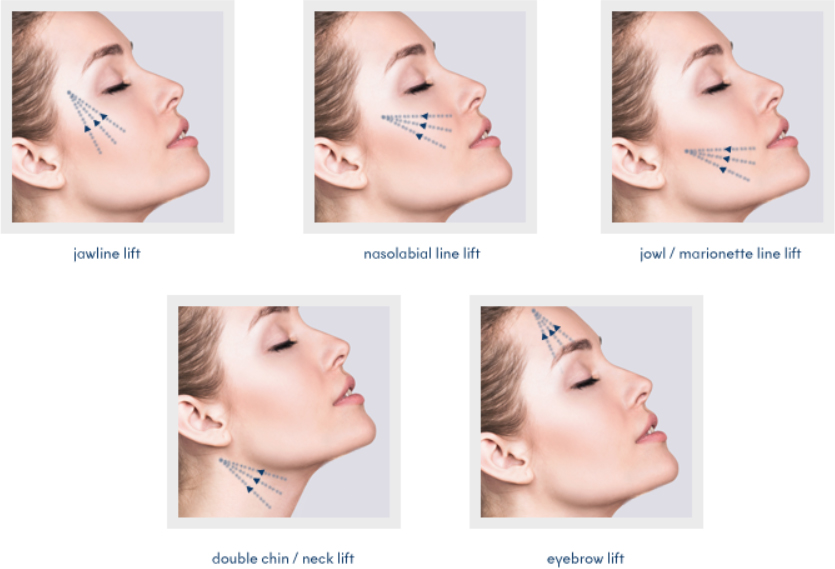 Image from: https://www.mizuaesthetic.com/face-thread-lift/
Thread Lifting is the insertion of the threads into the skin's soft tissue. It is usually done through a needle-hole with a cannula. After these threads are placed under the skin, they are tightened and by repositioning of facial fat, the skin becomes taut and is 'lifted'. Depending on the targeted area of the face, entry of the threads can be done at different locations such as hidden in the hair, behind the ear or in the hairline of the fringe, etc. As the threads have to be inserted into the skin itself via a very small hole, this is a minimally invasive treatment.
Benefits of Thread Lifting :
- More cost effective as compared to full surgical face lifts
- Much shorter recovery periods
- More effective and produces better results than machine assisted procedures such as Ulthera, SHURINK and Thermage
- Semi-invasive and thus safer for patients as compared to surgery
Who is an ideal candidate for Thread Lifting?
- Usually in their thirties to early fifties
- With mild to moderate sagging skin
- Patients who want a more natural lifting effect
- Patients who do not wish to undergo surgery
- Younger patients who wish to get a head-start in fighting the signs of aging
- Patients looking for quicker and more long-lasting results as compared to machine assisted lifting (Ulthera, SHURINK, Thermage) and skin rejuvenation at the same time
What to consider when deciding on Thread Lifts:
There are many different types of threads available in the market and it could get confusing when deciding which one to choose from. The threads each have their own distinct feature and can be distinguished on the shape and type of barbs on the thread itself. Each brand of threads has various sizes, and depending on each individual's condition, a medical professional would be the best person to give advice and recommendations on which size of threads to use.
Generally speaking, these are the pros and cons of using a thinner versus a thicker thread: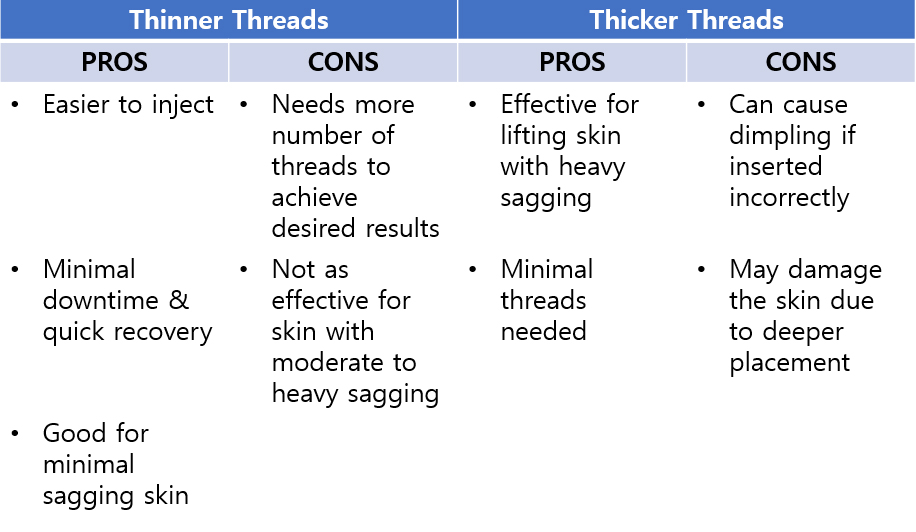 Here we will be introducing the most popular types of Thread Lift in Korea: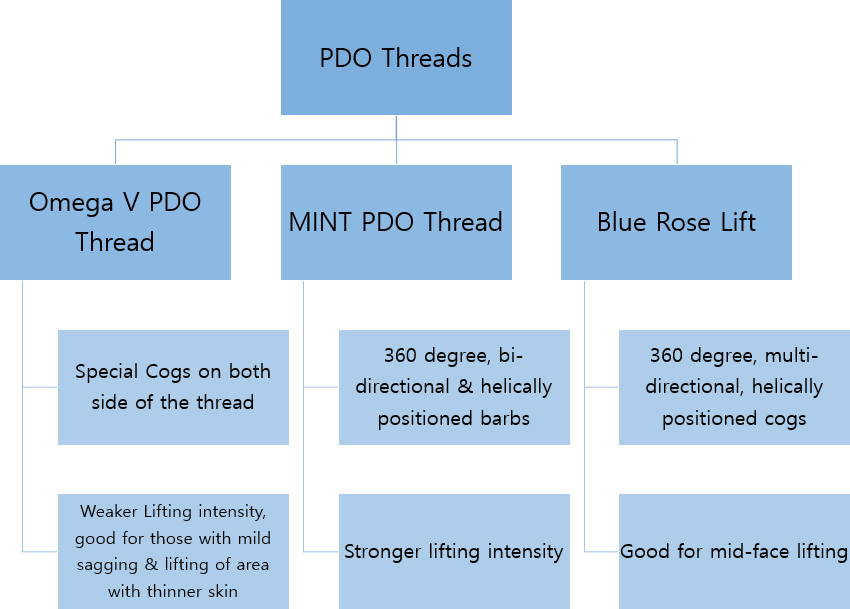 MINT PDO Thread Lift

MINT (Minimally Invasive Non-Surgical Thread) PDO is developed in locally in South Korea. It is made from absorbable PDO and has also received FDA clearance for its safe usage on the human body. MINT PDO is currently being used in 14 countries worldwide.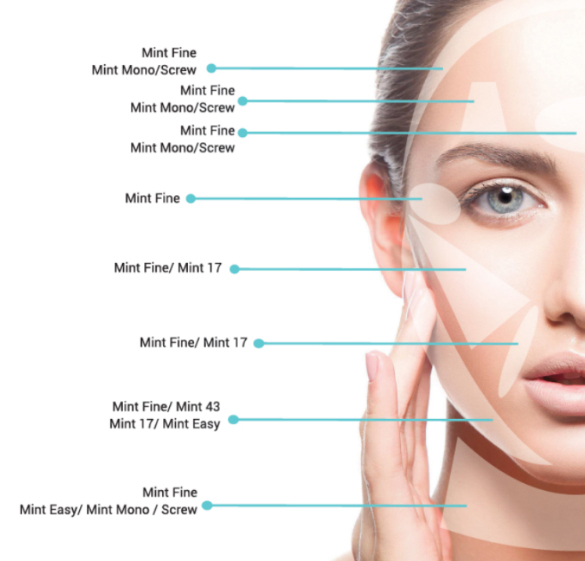 The MINT PDO have 360° bi-directional and helically positioned barbs on its threads, giving it a stronger anchor on the soft tissue, enhancing the final tightening effect. Being fully absorbable by the body, it will naturally dissolve into water and carbon dioxide in 6 – 8 months. That being said, the collagen produced will continue to give the skin it's youthful effect for another 3 – 6 months after.
OMEGA V PDO Thread Lift
Firstly, the Omega V PDO Threads are approved for safety by Korea's FDA (KFDA). Secondly, Similar to the MINT PDO, Omega's threads are also barbed. The barbs on both sides of Omega's threads are special cogs which helps it to anchor onto the skin tissue, creating the desired effect of skin tightening and skin rejuvenation. It is biodegradable and naturally dissolves into the body after 6 months – 1 year.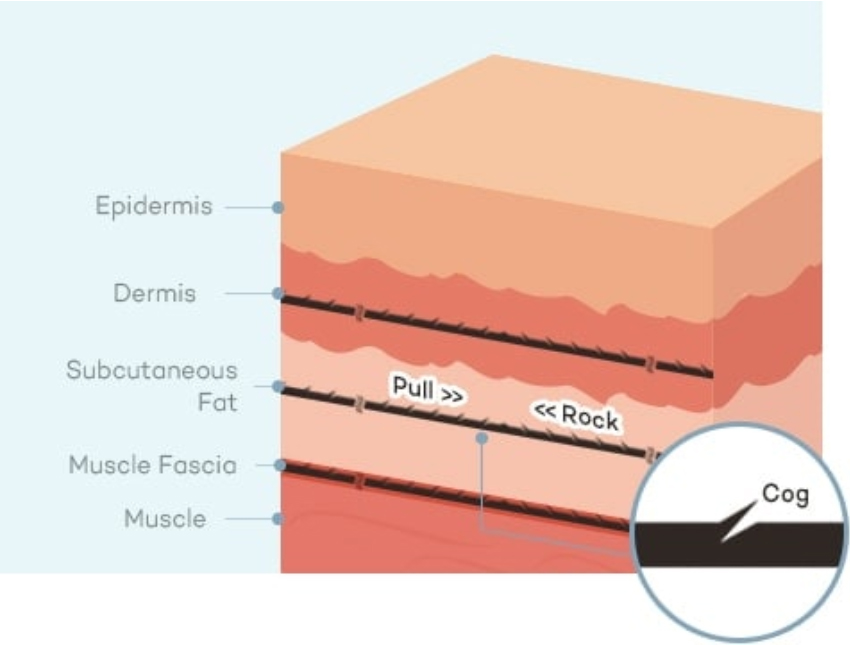 Blue Rose PDO Thread Lift


Image from: https://evitaclinic.com/face-contouring/blue-rose-lift/
The Blue Rose Threads are made from biodegradable PDO threads, and are approved by both FDA and KFDA for safety. The barbs on these threads are akin thorns on the stem of a rose, these cogs are helically positioned and hence provides good multi-directional support for the skin's soft tissues. Similarly, the threads naturally dissolve into the body after 6 months – 1 year.
What is the process of getting a Thread Lift like?
First, topical anesthesia (numbing cream) will be applied to the face. After 15 – 20 minutes, the numbing effect would have taken place, and the doctor will start inserting the threads into the targeted areas of the face and neck. The actual treatment process often doesn't take more than 1 hour. For those who have lower tolerance for pain, sedation is usually also provided at an extra charge.
What are the side effects and post-care treatment?
There are no side effects, however some people may experience redness, slight bruising and puffiness for a day or two, due to the use of needles. After treatment, the skin is more tender and it is recommended to stay out of the sun and refrain from going the sauna, hot baths for 2 weeks after treatment.
Where can I get Thread Lifting done in Seoul?
While Thread Lifting is a common procedure, it is important to get the treatment done with a doctor that is competent in Thread Lifting and understands your skin concerns. To find out more and to receive a personalized quote, simply useMISOODA's chat to speak directly with the clinics for a quick quotation.