Revision double eyelid surgery in Korea
Be Beautiful with
Revision double eyelid surgery in Korea
See the Eye ▼
Surgery Information
• Duration: Variable (case-by-case)
• Anesthesia: Local (Deep Sleep) Anesthesia
• Hospitalization: N/A
• Stitch Removal: 3~7 days after
• Clinic Visit: 1~3 times
• Recovery period: Return to daily routine after stitch removal
What is revision eyelid surgery?
If desirable eyeline creases and optimum outcomes were not achieved from previous surgeries, a revision surgery may be required. It is vital that a surgeon with extensive clinical experience performs this procedure to prevent further revision surgeries
Revision Eyelid Surgery Cases
-Too low/ Unfolded crease

-Too high/ Thick crease
-Sleepy looking eyes (ptosis)

-Multiple creases

-Very Noticeable scars

-Over correction of canthoplasty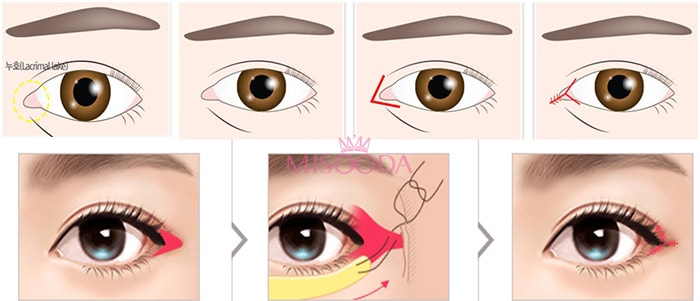 Who are the candidates for revision eyelid surgery?
- Those whose scars are dented and visible from primary surgery
- Those who have puffy and swollen eyelids (sausage eyelids)
- Those who didn't correct ptosis but only did double eyelid surgery
- Those who want to change the length, height or width of double eyelid lines due to
unsatisfactory results
- Those who have a habit of opening eyes with using eyebrows
- Over or under correction from all kinds of eyelid surgery
Revision eyelid surgery tips
1. It is recommended to consider a revision at least 3-6 months after the previous surgery. During this recovery period, some symptoms may resolve on their own.
2. Find an expert surgeon who has extensive experience with various revision cases.
3. Post-operative symptoms such as swelling and bruising may last longer.
4. Repeated procedures may cause restrictions to revision, it is recommended to have a
realistic goal and understand your real needs.
Revision Eyelid Surgery Cost
Revision cases vary in surgery prices. The price is usually decided depending on the method and difficulty of patients' cases. Usually, revision surgeries cost 1/3 times more than the primary surgery price.
To check the price of other eyelid surgery procedures,
To learn more about Korean Plastic/Cosmetic surgery price in Korea, check Know your plastic surgery price.
Eyelid Surgery Precautions
Preoperative Precautions
Check: What to prepare before Plastic Surgery
Post-operative Precautions
Check: Post-eyelid surgery precautions