Two-jaw surgery or Double Jaw surgery cost in Korea
Be Beautiful with
Two-jaw surgery cost in Korea
See the Two-jaw▼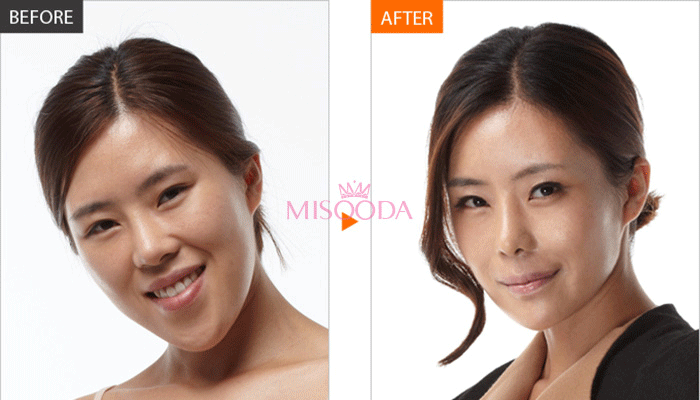 Surgery Information
• Duration: App. 4 hours
• Anesthesia: General Anesthesia
• Fasting: From 8 hours before the surgery
• Stitch Removal: 2 weeks after
• Hospitalization: 3 days
• Recommended Staying Period in Korea: 2 - 4 weeks
• Mani & Pedicure: Must be removed
• Compression Bandage: Recommended to wear at all times for first 3 days, then put on only at home or while sleeping for another 1-2 weeks
What is Two-Jaw Surgery?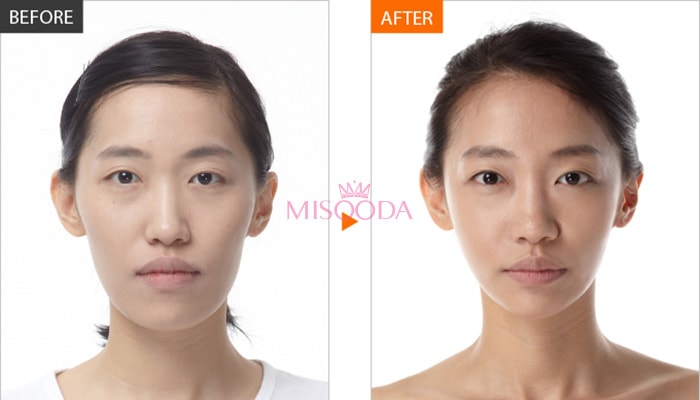 It is called "chin orthodontic surgery" and it is called as 2-jaw surgery or Double Jaw surgery as both the upper jaw (upper jaw) and lower jaw (lower jaw) are operated together. This surgery is a jaw correction surgery that fracture and correct the upper and lower jaw bone correcting lantern jaw, protruding mouth, facial asymmetry, along with other incorrectly positioned jaw and jaw function related corrections. In most cases, it is accompanied with dental problems, and in this case, combinational jaw joint problems such as malocclusion (incorrect teeth alignment); functional problems such as difficulty chewing and speaking can be observed. Two-Jaw surgery or Double Jaw surgery can not only restore the function of the jaw but it also enhances your appearance and improves your image into a more sophisticated look. Cut the upper and lower jaw and reposition the jaw to proper location through an incision inside the mouth.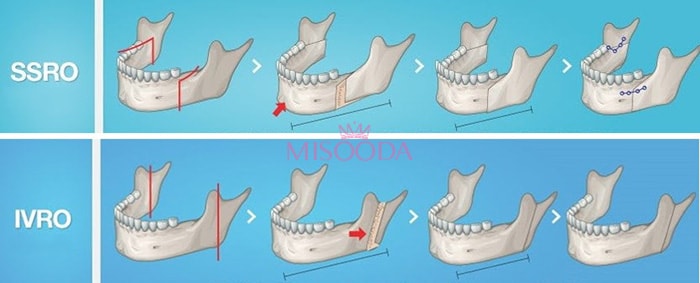 There are two methods to fracturing of the jaw bone; Sagittal Split Ramus Osteotomy (SSRO) and Intraoral Vertical Ramus Osteotomy (IVRO). The SSRO method is commonly used and it is advantageous for early stability and can relieve stress of physical therapy and upper and lower jaw bone fixation. IVRO is used for lantern jaw correction and it does not place strain on the temporomandibular joint therefore, it is a good method for patients with temporomandibular joint arthrosis.
Who are the candidates for Two-Jaw surgery or Double Jaw surgery?
- Those who have an unusually long face
- Those whose face is asymmetrical with an unbalanced left and right face
- Those whose lantern jaw is accompanied with malocclusion.
- Those whose gum is exposed severely when smiling
- Those whose center line of the top teeth is incorrect
- Those whose shape of eyes and the nose is ideal but is not balanced.
Two-Jaw Surgery or Double Jaw surgery Price/Cost in Korea
General price guide line for Two-jaw Surgery or Double Jaw surgery in Korea is USD$11,000 to USD$14,000 according to Korea Health Industry Development Institute. The price is decided in variable range depending on the method and difficulty of patients' case.
Part

From

(USD)

To

(USD)

Forehead Silicon Surgery

2,500

4,800

Face Lift Surgery

7,300

14,000

Cheek Augmentation Surgery (fat)

3,000

4,000

Cheek Reduction Surgery

5,500

7,000

Orthognathic Surgery (Corrective jaw Surgery)

11,000

14,000

Lower Jaw Surgery

4,500

7,300

Bottom Jaw Surgery (mandible)

5,500

7,000

Gum Reduction

2,300

3,600

Lip Reduction (per lip)

1,500

1,800

Protruding Ear Correction

2,300

3,600

Dimple Creation Surgery

900

1,600
To learn more about Korean Plastic/Cosmetic surgery price in Korea, check Know your plastic surgery price.
Facial Contouring Surgery Precautions
Preoperative Precautions
Check: What to prepare before Plastic Surgery
Post-operative Precautions
Check: Post-Two jaw surgery precautions
*After care of Two-Jaw Surgery or Double Jaw surgery is important !
1st day after surgery
- blood pocket inside the mouth is maintained for 2 days after the surgery.
- Consumption of rice gruel, thin porridge and juice is possible even though it might be difficult due to swelling inside the mouth, the incision wound and the blood pocket.
- Ice pack will be applied on the face continuously at the hospital.
---
2nd day after surgery
- The blood pocket inside the mouth is removed. Your dental status and the incision wound inside the mouth is examined by the doctor.
- Apply and ice pack and consumption of soft/liquid food which do not place strain on the jaw is possible.
---
3rd day after surgery
- Consumption of soft/liquid food is possible as the jaw bones are not fixed together.
---
4th day after surgery
- Similarly to the jaw and cheek bone reduction surgery, the face will continue to swell until the 4th day after >the surgery. Thus, continuous application of the ice pack is required
---
5th & 6th day after surgery
- Change to applying a hot pack instead of an ice pack. Consumption of soft foods such as porridge, steamed egg and tofu is possible.
---
7th day after surgery
- We recommend that you gargle your mouth straight after eating to manage the incision wound inside your mouth. This will help to heal the wound.
- We recommend moderate exercise (e.g. walking) as it will help with reducing the swelling.
- The face will be swollen but it is possible to return to work.
- Please refrain from eating for a day after the surgery. Eat soft foods (e.g. rice gruel, juice, milk and other drinkable liquid foods) should be consumed for the first seven days after the surgery.
- Nearly all normal food consumption is possible two weeks after the surgery. However, please cut foods into small pieces before eating and avoid eating hard food for four weeks after the surgery.
- Wear a compression belt around the face for 3~4 days after the surgery. Do not lie face down when sleeping and place 2~3 soft pillows at the head when sleeping as it will help reduce the pain.
- To prevent infection and inflammation, please cleanse your mouth with gargle right after every meal.
- Consuming alcohol and smoking will slow down the healing process so it should be avoided for at least four weeks after the surgery.
- You have to take extra care not to let your face get exposed to strong shock during the recovery period.