Liposuction procedures, cost, benefits, risks in Korea
Be Beautiful with
Liposuction procedures, cost, benefits, risks in Korea
See the liposuction ▼
Surgery Information
• Duration: App. 3~4 hours
• Anesthesia: Sedation Anesthesia
• Stitch Removal: 1~2 weeks after
• Hospitalization: N/A
• Shower: Partially available
• Compressive Garment: Recommended to wear at all times for the first month and put its on at home or when sleeping for another month
What is Liposuction in Korea?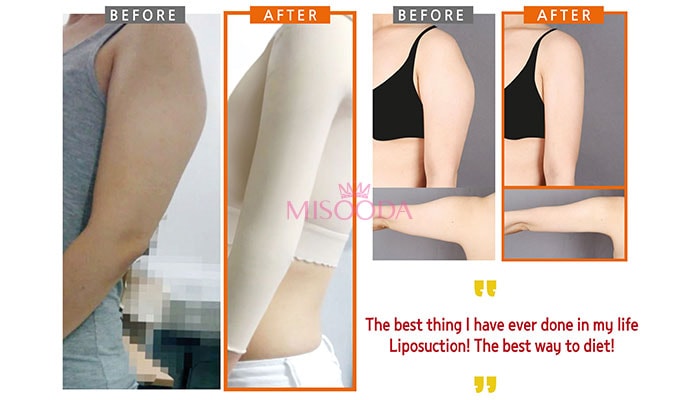 Liposuction, or simply lipo, is a type of cosmetic surgery that removes fat from the human body in an attempt to improve its body contour. Liposuction safely removes excessively accumulated body fat with sound wave pressure, ultrasonic waves and laser. In the process of removing the fat layer, excess fat cells are discharged out of the body to create a well-balanced body line. Liposuction Surgery has a high satisfaction level by completing a flawless and perfect S-line body contour. Liposuction can be performed alone or along with other plastic surgery procedures, such as facial surgeries, breast surgery, or abdominoplasty. Liposuction is not only for removing the excessive fat but also for making beautiful body line and boosting the confidence in your body.
Liposuction Areas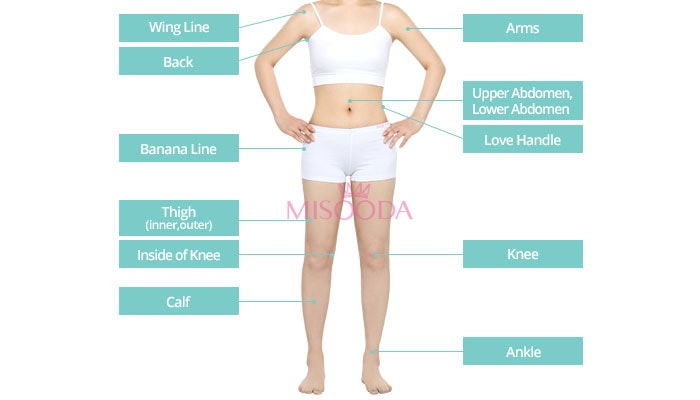 Who are the candidates for liposuction?
- Those who have a lot of excess fat distributed all around the body.
- Those who have a lot of excess fat on a particular area such as the abdomen, thighs, arm, calves and face.
- Those who want body line correction effect in a short period of time without dieting.
- Those who want to correct their body contour but feel burdened to undergo surgery.
- Those who want to have a perfect and well balanced body contour through removal of excess fat.
Liposuction Surgery Price/Cost in Korea
General price guide line for Liposuction Surgery in Korea is USD$1,400 to USD$18,200 according to Korea Health Industry Development Institute. The price is decided in variable range depending on the method and difficulty of patients' case.
Part

From

(USD)

To

(USD)

Thigh

4,500

6,500

Calf

1,800

2,800

Arms

3,200

5,000

Abdomen, Flank

5,000

7,300

Abdomen

2,800

3,600

Hip

2,800

3,600

Face

1,400

2,800

Double Chin

1,600

2,300

Cheek

1,600

2,800

Abdominoplasty

12,000

18,200

Vaginoplasty

3,600

5,500

Hymen Repair

2,800

3,600
To learn more about Korean Plastic/Cosmetic surgery price in Korea, check Know your plastic surgery price.
For more information about Liposucion Korea
Liposuction Surgery Precautions
Preoperative Precautions
Check: What to prepare before Plastic Surgery
Post-operative Precautions
1. Heavy exercise or heavy labor should be avoided on surgery day.
2. Liquid might come out in the surgery region 1-3 days after surgery. Swelling and/or bruising might occur and it can last for a few weeks.
3. Compression garment must be worn a day after surgery. It is advised to keep wearing the garment for 2-3 months since it helps to reduce swelling and get into the right shape.
4. Shower should be done around 7 days after surgery so that the wound can heal properly. When showering, it is recommended not to scrub hard on the body.
5. Smoking and drinking must be avoided for 4 weeks because it can slow the healing process.
6. Heavy exercise or movement should be prohibited for 2-3 weeks.
Body contouring surgery Promotions