Home
Surgery Guide
Breast reduction & lift cost in Korea - Reviews, Pictures, Methods
Breast reduction & lift cost in Korea - Reviews, Pictures, Methods
Be Beautiful with
Breast reduction & lift cost in Korea - Reviews, Pictures, Methods
See the breast ▼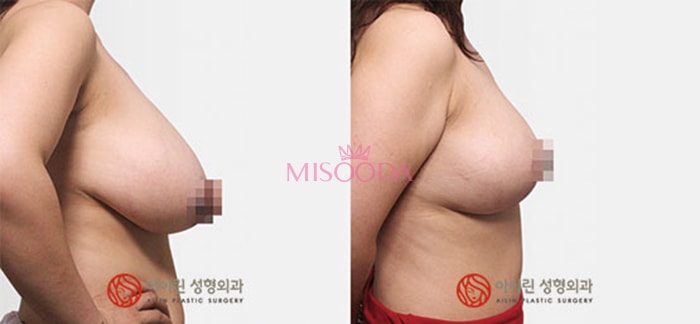 Surgery Information
• Duration: App. 3~5 hours
• Anesthesia: General Anesthesia
• Fasting: 8 hours before the surgery
• Stitch Removal: 2 weeks after
• Hospitalization: 1 day
• Hemo Vac Removal: 3 days after
• Recommended Staying Period in Korea: Min.2weeks
What is Breast Reduction/Lift Surgery in Korea?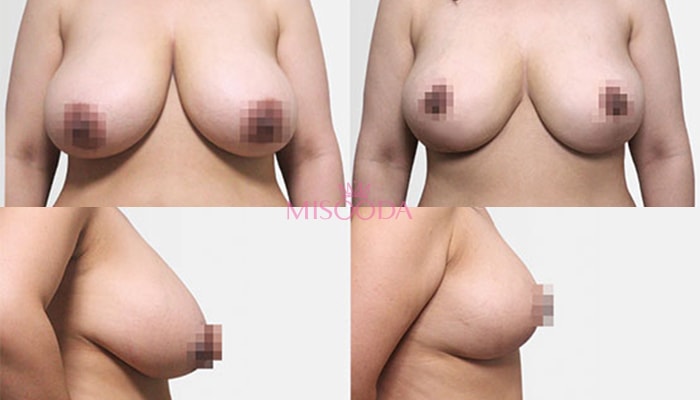 Not only the face, but also our breast needs to rejuvenate due to changing and loss of skin elasticity from pregnancy, breastfeeding, aging, gravity, etc. Breast reduction/lift is a surgery which reduces oversized breasts (breast reduction/macromastia) and adjusts flaccid breasts (breast lift/mastopexy) at the same time to improve the appearance of sagging breasts. It raises the breasts by removing excess skin and tightening the surrounding tissue to reshape and support the new breast contour. Since Asians usually don't have overly large breasts, breast lift (mastopexy) is more common in Korea than Breast reduction. However, there are still many women who suffer from uncomfortable large breasts (neck and back pain due to large and heavy breasts) and seek for breast reduction as a solution. When only breast lift (mastopexy) surgery is performed due to only saggy breasts, breast augmentation surgery also can be considered with breast lift surgery as breast lift does not significantly change the size of your breasts or round out the upper part of the breasts. The procedure is more difficult and complex than breast augmentation, but customer satisfaction on this surgery is very high.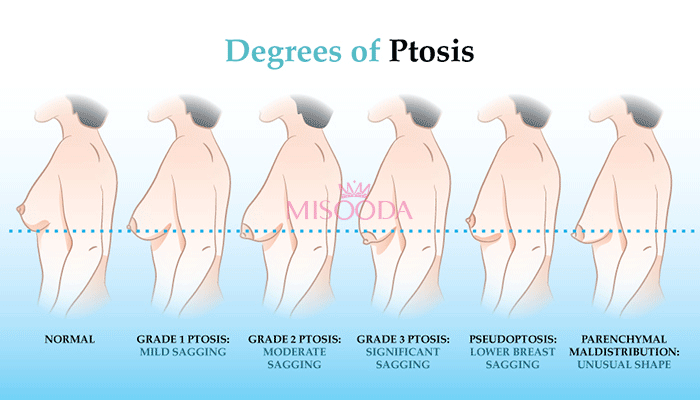 The severity of breast ptosis (droopiness) is determined to decide each case with the most suitable surgical method and incision. There are 3 incision methods for breast reduction and breast lift surgery: Areola incision, Vertical incision, and Complex incision. The level of droopiness, breast size and preference for scar location can be considered when choosing incision method for the best results. If breasts are not too big and not too saggy and considering scarring, Areola incision is suitable. Vertical incision is the most common for breast reduction and breast lift surgery. This method allows to correct the droopy breast completely. When breast droopiness is very severe as the nipple locates below the inframammary fold (underneath the breast line), then Complex incision is the most appropriate for reducing the excess breast skin.
Who are the candidates for breast reduction/lift surgery?
- Those who have small and droopy breast compared to one's body type
- Those whose breast volume is too big compared to the body type and are droopy
- Those who lost elasticity in their breast due to excessive diet
- Those who have severe breast ptosis (droopiness) after pregnancy and giving birth
- Those who lost elasticity in breast tissue due to aging.
Breast Reduction/Lift Surgery Price/Cost in Korea
General price guide line for Breast Reduction/Lift Surgery in Korea is USD$7,300 to USD$13,600 according to Korea Health Industry Development Institute. The price is decided in variable range depending on the method and difficulty of patients' case.
Part

From

(USD)

To

(USD)

Breast Augmentation(fat)

6,300

13,000

Breast Reduction

7,300

13,600

Breast Correction

6,800

9,100

Nipple Surgery (Inverted Nipple)

1,400

2,300

Nipple Reduction (excluding areola reduction)

1,400

2,300

Breast Reconstruction

11,000

22,000


To learn more about Korean Plastic/Cosmetic surgery price in Korea, check Know your plastic surgery price.
Breast Surgery Precautions
Preoperative Precautions
Check: What to prepare before Plastic Surgery
Post-operative Precautions
Check: Post-operative Precautions