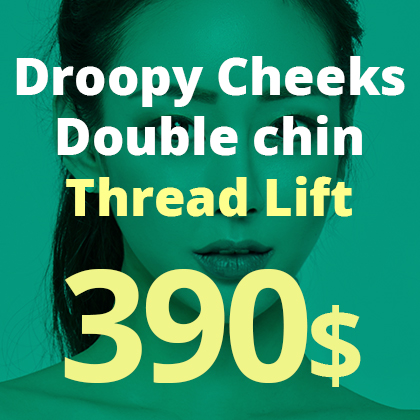 Period : Jun 01 2022 ~ Dec 31 2022
TS Mint Thread Lift
Pre paid $ 85
Clinic Pay $ 1,271

'The Place Where the Secret of Beauty Begins'
If you would like to get rid of your saggy cheeks or double chin, however, if the surgery is too much?!
TS Thread Life uses a mint thread with excellent tensile and pinning force.
The protrusion is distributed as it rotates throughout the thread so the skin tissue is strongly fixed.
In addition, a thin and rounded cannula minimizes the skin and vessel damage to reduce bruises and swelling.
Come to TS and refine your beauty with a small invisible touch!

Please Login to leave question!
No.
Question & Answer
Member
Date
Status
No Result
Surgery Information
| | |
| --- | --- |
| Surgery duration | - |
| Anesthesia | - |
| Hospitalization | - |
| Removal of stitches | - |
| Number of postoperative visits | - |
| Recovery period | - |
Provided Service
| | |
| --- | --- |
| Medicine | - |
| Post-care Treatment | - |
| Transportation | - |
| Language | - |
| Hospitalization | - |
| Others | - |
| Anesthesia Cost | - |
Precautions before / after surgery
Caution before surgery
Medication
• Please stop taking any medications below a week before the operation.
- Multivitamin, Tocopherol, Aspirin, Birth control pill, Dermatological drugs, Blood circulation enhancer, Roaccutane (acne drug), Herbal medicine
• Please do inform us if you ever had any side effects from medications or injections.
• Please let us know if you have a symptom of flu, inflammation, cough, or phlegm a week before the operation.
Smoking/Drinking
• From a week before the operation, smoking and drinking are prohibited.
Fasting
• General anesthesia: Any kind of foods and drinks including bubble gum and water are strictly prohibited from 12 AM of the operation day
• Sedation: Any kind of foods and drinks including bubble gum and water are strictly prohibited 6hours prior to the operation
Others
• Makeup, any accessories, or nail polish has to be removed before the surgery.
※ Please be advised that the time of the operation can be adjusted, we will contact you a day before the operation to confirm.
※ We recommend you use public transportations or go with your guidance rather than driving your own.
Caution after surgery
Medication and Ointment.
· Clinics will prescribe medicines mostly consisting of antibiotics, digestive medicine, and antiphlogistics. Additional costs for medication may be required.
· In case of having any allergies or side effects after taking medications, please stop taking and contact us immediately.
Right After The Operation
· Right after the procedure, there will be a hydrocolloid dressing which is called 'Duoderm'.
*You can remove and change by yourself to the new one when it bubbles and in case the skin becomes red and itchy, please contact us right away.
· Please avoid anything that stretches the thread such as opening your mouth wide or making facial impressions using too much facial muscle until the 3rd week.
· There may be a lot of swelling and bruises on the 3rd~4th day which will get better as time goes by.
· During the healing process, if the surface of your skin becomes bumpy or see the asymmetry of your face, please contact us right away.
· It is possible for you to wash your face after the 3rd day of the procedure. Please be careful when you wash.
· It is possible for you to have a light massage after a month of the procedure. However, we recommend you to have a meridian massage or press pimples out that anything gives a strong impact after 2~3 months.
Promotion process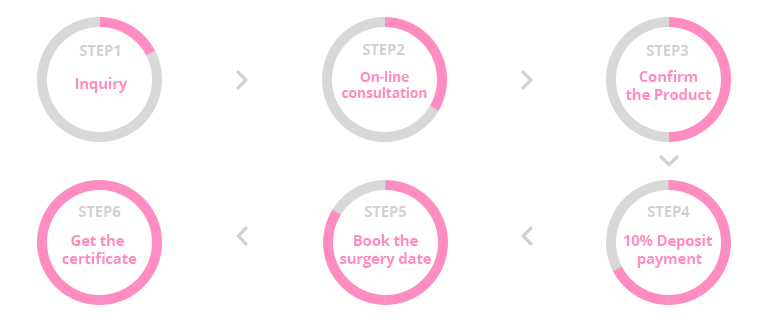 Cancellation policy
Surgery deposit payments are non-cancellable nor refundable.
Please consider carefully before making decision.
Other promotions of this clinic