Period : Jan 14 2021 ~ Mar 31 2021
TS 360' ViewPoint Breast Augmentation

***This event is for BellaGel-Smooth. There may be additional charges for other brands.

'The Place Where the Secret of Beauty Begins'
The secret to natural-looking breast augmentation from any angle is inside of my own breast.
The most important thing you should know about breast augmentation is that it is not about increasing the size!
TS breast augmentation chooses the type of the implant, the location of implants, and operation method very carefully according to each patient by considering individual breast shape, chest size, and the tactile.
TS plastic surgery provides the utmost customer satisfaction with the successful result under the control of Dr. Lee who is very into small details.
Come and experience the quality in TS!

Please Login to leave question!
No.
Question & Answer
Member
Date
Status
No result
Surgery Information
| | |
| --- | --- |
| Surgery duration | 3hours 30min |
| Anesthesia | General Anesthesia |
| Hospitalization | Not Required |
| Removal of stitches | 14 days |
| Number of postoperative visits | 3 times |
| Recovery period | 15 days |
Provided Service
| | |
| --- | --- |
| Medicine | No |
| Post-care Treatment | Yes |
| Transportation | No |
| Language | Korean, English, Japanese, Chinese, and Vietnamese |
| Hospitalization | Not Required |
| Others | |
Caution before / after surgery
Caution before surgery
Medication
• Please stop taking any medications below a week before the operation.
- Multivitamin, Tocopherol, Aspirin, Birth control pill, Dermatological drugs, Blood circulation enhancer, Roaccutane (acne drug), Herbal medicine
• Please do inform us if you ever had any side effects from medications or injections.
• Please let us know if you have a symptom of flu, inflammation, cough, or phlegm a week before the operation.
Smoking/Drinking
• From a week before the operation, smoking and drinking are prohibited.
Fasting
• General anesthesia: Any kind of foods and drinks including bubble gum and water are strictly prohibited from 12 AM of the operation day
• Sedation: Any kind of foods and drinks including bubble gum and water are strictly prohibited 6hours prior to the operation
Others
• Makeup, any accessories, or nail polish has to be removed before the surgery.
※ Please be advised that the time of the operation can be adjusted, we will contact you a day before the operation to confirm.
※ We recommend you use public transportations or go with your guidance rather than driving your own.
Caution after surgery
Medication and Ointment.
· Clinics will prescribe medicines mostly consisting of antibiotics, digestive medicine, and antiphlogistic. Additional costs for medication may be required.
· In case of having any allergies or side effects after taking medications, please stop taking and contact us immediately.
Right After the Operation
· A gauze bandage over the incision helps to prevent infection with quick recovery.
· Make sure you keep the hose straight or unlock in case you have a surgical drain. It will be removed after 1~2 days post-operation.
· Please do contact us immediately if you have pain accompanied by heat or getting worse.
Swelling, pain, or senses (Individual symptoms may vary)
· You might feel severe pain or swelling till the 3rd or 4th-day post-operation. However, it will become much better as time goes by.
· The size of each side of breast or swelling will be different which will get back to normal over time.
· You might face difficulties with breathing due to the increment of breast weight.
· You might feel temporary abdomen distention as swelling subsides from the higher to the lower area.
· Bruises will be gone within 2~3 weeks. It might take a bit longer depends on the individual.
· It is totally normal to have breast pain only one side or pricking pain which means of recovery.
· Dull pain will also get better as time goes by. (taking 6~12 months to get fully recovered)
Enhanced recovery post-operation
· It will be better for a quick recovery to sleep on your back with your upper body elevated for a month. Avoid sleeping on the side or stomach.
· Keep your surgical bra for 6 weeks from right after the surgery, and a strap to be kept till the 6th weeks(transaxillary-for 3 months required) tight enough.
If a strap is too harsh for your skin, it is okay to wear an inner cotton t-shirt. A sports bra must be worn for 3 months post-operation. You can wear a normal bra after the 3rd month.
· You might face indigestion from the pressure of the surgical bra or the strip.
· Foods that can be easily digested are highly recommended to have and avoid overeating for a week after the surgery.
· Please avoid any high- impact activities or breast massage.
· You can have a hair washing service after 2~3 days in our clinic. However, if it is hard for you to come to the clinic, you can also visit any hair salon or you can wash it by yourself as long as you are able to move your arms easily.
· You can shower on the 5th day after the surgery(consider the day after the surgery as the 1st day) avoiding water directly to the incision. In case of taking shower before due to some unavoidable circumstances, please use waterproof bandages over the gauze before the shower. (It is okay to take shower if there is Duoderm over the incision, however, make sure to change to the new one if it already bubbled.)
· Light walking is recommended to encourage healing.
High-impact activities(such as swimming, gym, climbing), strenuous exercise, sauna, Korean dry sauna must be avoided for a week.
· Smoking and drinking are strictly prohibited for a month after the surgery since they cause infection and delay wound healing.
Promotion process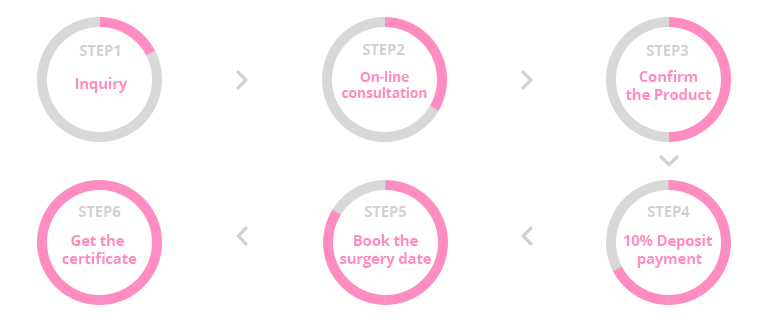 Cancellation policy
Surgery deposit payments are non-cancellable nor refundable.
Please consider carefully before making decision.
Other promotions of this clinic