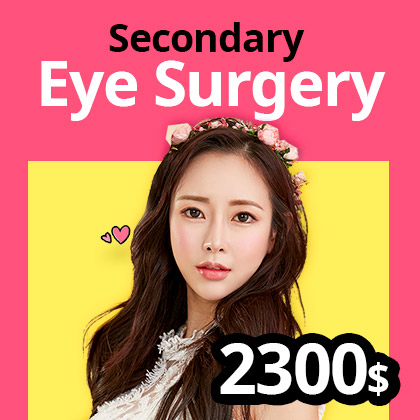 Period : Jun 01 2022 ~ Dec 31 2022
Secondary Eye Surgery
Pre paid $ 424
Clinic Pay $ 2,034

'The Place Where the Secret of Beauty Begins'
There will be several reasons for not being satisfied with primary eye surgery.
TS specialists have extensive experience of various types of eye shape to determine the exact cause of the failure of the primary surgery. The right operation method only can be chosen after knowing the cause.
TS specialists are able to fully understand what kind of eye shape the patients really pursue and never recommend more than what is necessary.
TS plastic surgery provides the utmost customer satisfaction with the successful result under the control of Dr. Lee who does not even let go of a 0.01mm difference in his surgery.
It is never easy for all the surgeons to be good at secondary surgery. Come and experience the quality in TS!

Please Login to leave question!
No.
Question & Answer
Member
Date
Status
No Result
Surgery Information
| | |
| --- | --- |
| Surgery duration | - |
| Anesthesia | - |
| Hospitalization | - |
| Removal of stitches | - |
| Number of postoperative visits | - |
| Recovery period | - |
Provided Service
| | |
| --- | --- |
| Medicine | - |
| Post-care Treatment | - |
| Transportation | - |
| Language | - |
| Hospitalization | - |
| Others | - |
| Anesthesia Cost | - |
Precautions before / after surgery
Caution before surgery
Medication
• Please stop taking any medications below a week before the operation.
- Multivitamin, Tocopherol, Aspirin, Birth control pill, Dermatological drugs, Blood circulation enhancer, Roaccutane (acne drug), Herbal medicine
• Please do inform us if you ever had any side effects from medications or injections.
• Please let us know if you have a symptom of flu, inflammation, cough, or phlegm a week before the operation.
Smoking/Drinking
• From a week before the operation, smoking and drinking are prohibited.
Fasting
• General anesthesia: Any kind of foods and drinks including bubble gum and water are strictly prohibited from 12 AM of the operation day
• Sedation: Any kind of foods and drinks including bubble gum and water are strictly prohibited 6hours prior to the operation
Others
• Any nail polish has to be removed before the surgery.
※ Please be advised that the time of the operation can be adjusted, we will contact you a day before the operation to confirm.
※ We recommend you use public transportations or go with your guidance rather than driving your own.
Caution after surgery
Medication and Ointment.
· Clinics will prescribe medicines mostly consisting of antibiotics, digestive medicine, and antiphlogistics. Additional costs for medication may be required.
· In case of having any allergies or side effects after taking medications, please stop taking and contact us immediately.
Right After The Operation
· The surgical area may bleed a bit after the operation. Please dabbed gently with a cotton bud, a gauze, or a clean tissue.
· You may face hyperemia conjunctiva, chemosis, discharge, getting eyes mucus, or blurred vision after the operation. You do not have to worry as it will get better over time. It will take approximately 2 weeks for chemosis to be reduced.
· You may feel irritation, pain, or hard to open your eyes. For those who have ptosis correction, may trouble to close the eye completely in the beginning.
· Please do contact us immediately if you have pain accompanied by heat or getting worse.
· In case of having surgery on your lower eyelid such as lower blepharoplasty, lower eye fat reposition, dual canthoplasty, lowering the lower lid, Angel canthoplasty, or etc., if the lower eyelid does not stop bleeding or becomes puffy or swells all of sudden, contact the clinic immediately.
Swelling, pain, or senses (Individual symptoms may vary)
· There may be a lot of swelling and pain until the 3rd~4th day. Most of the swelling will get better within a week depends on the individual.
· We recommend you to use an ice pack to reduce swelling till the 3rd day, warm pack(not too hot) from the 4th day for 2 weeks.
· There may be a difference in swelling on each side of the face. The shape or line might seem uneven till the swelling subsides completely.
· The incision might be itchy after a week of the operation due to the wound healing process.
· Bruising resolves within around 2~3 weeks or more.
· In case of having a bruise or swelling on the lower eyelid, conjunctival glandular might seem a bit flipped which will get better after 2~3 months unless having any particular symptoms.
Enhanced recovery post-operation
· Never shed a lot of tears, squeeze the eyes, or rub for a month post-operation.
· You can put on makeup 3~5 days after(not over the incision). We recommend you to put on makeup covering incisions 7~14 days after.
· You can wash your face after the stitches are removed. It is possible to shower on the same day as the operation. However, make sure that water does not go directly to the incision.
· It is helpful to reduce swelling to use 2~3 soft pillows together when you sleep after the operation.
· Light walking is recommended to encourage healing. Please avoid high-impact activities (such as swimming, gym, climbing), strenuous exercise, sauna, Korean dry sauna which delays the wound healing process. All must be avoided at least for a month.
· You can wear your contact lenses a week post-operation, and a month post-operation for eyelash extensions.
· Smoking and drinking are strictly prohibited for a month after the surgery since they cause infection, and delay wound healing.
Promotion process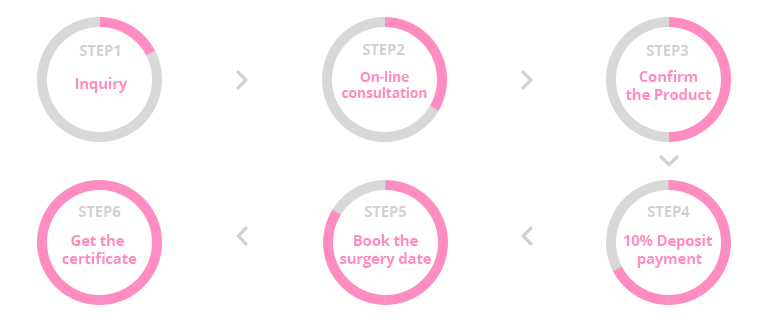 Cancellation policy
Surgery deposit payments are non-cancellable nor refundable.
Please consider carefully before making decision.
Other promotions of this clinic