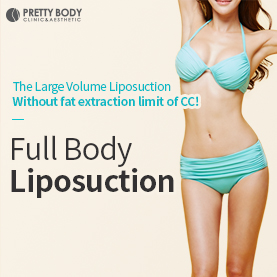 Period : Jun 01 2022 ~ Dec 31 2022
Full Body Liposuction(Excl.Calves)
Pre paid $ 1,695
Clinic Pay $ 11,441


Please Login to leave question!
No.
Question & Answer
Member
Date
Status
No Result
Surgery Information
| | |
| --- | --- |
| Surgery duration | - |
| Anesthesia | - |
| Hospitalization | - |
| Removal of stitches | - |
| Number of postoperative visits | - |
| Recovery period | - |
Provided Service
| | |
| --- | --- |
| Medicine | - |
| Post-care Treatment | - |
| Transportation | - |
| Language | - |
| Hospitalization | - |
| Others | - |
| Anesthesia Cost | - |
Precautions before / after surgery
Caution before surgery
1.NO SMOKING / DRINKING for 3 DAYS prior to the operation.
2. STOP taking 2 WEEKS prior to operation.Please let us know if you are taking ANY MEDICATION.
(e.g. Aspirin, Hormone related medications, Vitamins, Herbal medications, Diet pills, and etc)
If you have a HIGH BLOOD PRESSURE, please take a MEDICATION with ONE SIP OF WATER.
3. Let us know if you have PRE or EXISTING MEDICAL CONDITIONS especially diabetes, High/Low blood pressure, High/Low Sugar level, seizures, etc.
Also, let us know if you have ANY ALLERGIC TO MEDICATION.
4. Notify us if you HAVE COLD / FLU symptoms
5. SHAVE your HAIR all around the operation area.
6. We do recommend that the patients take SHOWER AND BATH PRIOR to surgery. (Please wash your inside of belly button if you do abdomen liposuction)
7. DO NOT wear MAKE-UP, PEDICURE, NAIL POLISH, CONTACT LENS and PIERCING OF ANY KIND.
8. Please wear COMFORTABLE CLOTHES AND SHOES.
(Please bring extra thick socks so that your feet can be warm up at the recovery room)
9. Please bring some SWEETS if you have a HYPOGLYCEMIA
(Please bring 1~2 instant porridge so that you can eat when you wake up after surgery)
10. Patient should NOT EAT nor DRINK 6~8 HOURS PRIOR to operation including (water, chewing gum, Coffee, Candy, etc)
Caution after surgery
1. Stitches removal can be 10~14 days after surgery
2. Moderate swelling is expected right after surgery. Swelling is severe during 2nd and 3rd days but it usually subsides within a week.
Effect of surgery are most visually distinct after 6 -12 months when the swelling goes down completely.
3. It is strongly recommended not to smoke or drink alcohol for 2-3 weeks
4. No visit to sauna or extreme sports for one month (No bathe for a month)
5. Numbness, diseaness, pain around surgical area is normal reaction and it will gradually disappear.
Swelling after surgery is expected and may look uneven however it will subside and condition is only temporary/ after a month.
6. It is better to move around within the house than complete bed rest
7. You must bring a guardian when you go to the bathroom for first 48 hours.
8. If you want to have a shower before stitch removal, please put the water-proof bandage on incision area.
Put a regular bandage on incision area when it gets dry with cool air (if the incision area is wet then it causes infection)
9. You may participate in active exercise after 2 weeks. Light exercises are recommended after 2-3 days
10. Numbness on surgical sites should disappear within 3-4 months (it is depending on individual). Lumpy, uneven, hardness will be rarely occurred but it will be consistently improved
11. Wearing compressive garment during the first 2 months can prevent swelling and skin irregularities.(Wear 24 hours for a week , wear 8 hours after a month)
12. If you have allergy reaction then wash a compressive garment with water while you are not wearing.Please wash your compressive garment with water then put it back on after it gets dried on 7th days. (Please do not wash your compressive garment with washing machine)
13. Please contact and visit the clinic immediately if you have any symptoms of severe pain, hot flush, rash on surgery sites over 3 days.
Promotion process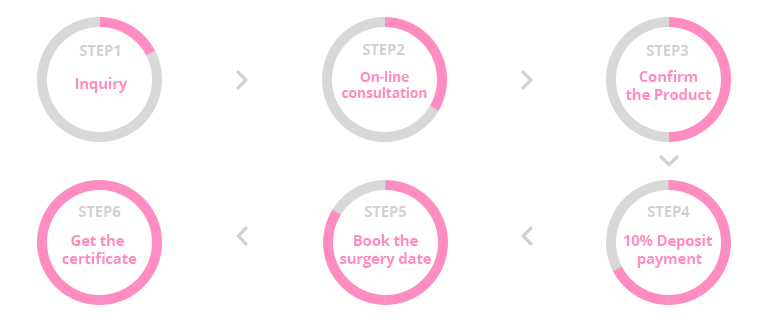 Cancellation policy
Surgery deposit payments are non-cancellable nor refundable.
Please consider carefully before making decision.
Other promotions of this clinic