Period : May 01 2023 ~ Aug 31 2023
1 type facial contouring
Pre paid $ 847
Clinic Pay $ 2,102

Facial contouring, also known as facial sculpting, is an elective cosmetic surgical procedure that improves the general appearance of the face. It help improve the proportion of the face and all facial features,make the face generally smaller,correcting and reconstructing the facial bone and aesthetically reshaping and resizing the facial bone,giving patients that smooth and more youthful look they have been wanting.

Please Login to leave question!
No.
Question & Answer
Member
Date
Status
No Result
Surgery Information
| | |
| --- | --- |
| Surgery duration | - |
| Anesthesia | - |
| Hospitalization | - |
| Removal of stitches | - |
| Number of postoperative visits | - |
| Recovery period | - |
Provided Service
| | |
| --- | --- |
| Medicine | - |
| Post-care Treatment | - |
| Transportation | - |
| Language | - |
| Hospitalization | - |
| Others | - |
| Anesthesia Cost | - |
Precautions before / after surgery
Caution before surgery
Caution before surgery
Medication
• Please stop taking any medications below a week before the operation.
- Multivitamin, Tocopherol, Aspirin, Birth control pill, Dermatological drugs, Blood circulation enhancer, Roaccutane (acne drug), Herbal medicine
• Please do inform us if you ever had any side effects from medications or injections.
• Please let us know if you have a symptom of flu, inflammation, cough, or phlegm a week before the operation.
Smoking/Drinking
• From a week before the operation, smoking and drinking are prohibited.
Fasting
• General anesthesia: Any kind of foods and drinks including bubble gum and water are strictly prohibited from 12 AM of the operation day
• Sedation: Any kind of foods and drinks including bubble gum and water are strictly prohibited 6hours prior to the operation
Others
• Makeup, any accessories, or nail polish has to be removed before the surgery.
※ Please be advised that the time of the operation can be adjusted, we will contact you a day before the operation to confirm.
※ We recommend you use public transportations or go with your guidance rather than driving your own.
Caution after surgery
Caution after surgery
Medication and Ointment.
· Clinics will prescribe medicines mostly consisting of antibiotics, digestive medicine, and antiphlogistic. Additional costs for medication may be required.
· In case of having any allergies or side effects after taking medications, please stop taking and contact us immediately.
Right After the Operation
· After having general anesthesia, it is normal to have phlegm(sometime you might have it with a little blood). It is mostly disinfectant with blood from the operation which you do not have to worry about. Do not cough on purpose. You can just spit it out once it comes out.
· Sometimes you may have bleeding nose after the operation which will get better over time. If it bleeds, never blow your nose. Please wipe gently.
· If the facial strap bandage is required after the operation, it must be worn for 1 week. After the 1st week until the 1st month, it always should be worn unless it is unavoidable.
· Please do contact us immediately if you have pain accompanied with heat or getting worse as well as having too much of bleeding inside of your mouth(If a piece of given gauze is drenched with blood within 10 minutes)
Diet
· Spicy or strong-tasting foods and using a straw are strictly prohibited for 2 weeks after the operation.
· You can only have water for the first 24 hours(juice, milk, soybean milk, pumpkin juice, thin rice gruel, or rice porridge are not allowed)
· You can have a small piece(fingernail-sized) of banana, tofu, potato, or sweet potato to swallow which should not be watery till the first 48 hours.
· You can have rice porridge which should not be hot from the 3rd day, soft food including rice from the 4th day.
· It is possible for you to have a normal meal after a week. Foods should be chopped. Solid or tough foods or the food required to open your mouth wide are recommended to have after 4 weeks.
Mouthwash and Brushing teeth
· Please keep your mouth clean by using mouthwash for 2 weeks post-operation to prevent inflammation or infection.
· You can brush your teeth with the toothbrush and toothpaste after 2 weeks.
Swelling, pain, or senses (Individual symptoms may vary)
· We recommend you to use an ice pack to reduce swelling till the 3rd day, warm pack(not too hot) from the 4th day for 2 weeks. Do it around your eyes and cheeks and be careful with the nose should not be pressed.
· There may be a lot of swelling till the 3rd~5th day. It will get better after a week depends on the individual.
· Dull pain will also get better as the time goes by(taking 6~12months to get fully recovered).
Enhanced recovery post-operation
· You can wash your face after the 2nd day and shower after the 3rd day avoiding water going directly to the fat extracted area.
· You have a hair washing service after 2~3 days in our clinic. However, if it is hard for you to come to the clinic, you can also visit any hair salon(avoid water going into the incision). You can wash it by yourself from the day after the stitches are removed.
· Light walking is recommended to encourage healing.
· High-impact activities(such as swimming, gym, climbing), strenuous exercise, sauna, Korean dry sauna which delays the wound healing process must be avoided at least for a month.
· Smoking and drinking are strictly prohibited for a month after the surgery since they cause infection, and delay wound healing.
· It is helpful to reduce swelling to use 2~3 soft pillows together when you sleep after the operation.
Promotion process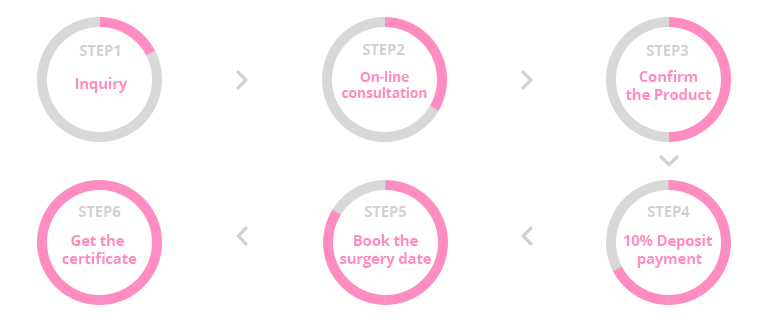 Cancellation policy
Surgery deposit payments are non-cancellable nor refundable.
Please consider carefully before making decision.
Other promotions of this clinic